This is part of a series of posts related to my recent trip to the American International Toy Fair in New York City.
I'll admit I knew about these before Toy Fair.  My mom has the whole set.  But the people at the booth were some of the friendliest at the show, so they're worth talking about!
Idbids are "Green Toys.  Each plush is made from 100% organic cotton colored with all natural dyes.  They promote being kind to the earth and taking "iddy biddy steps" which make "a biggie big difference" in saving the earth.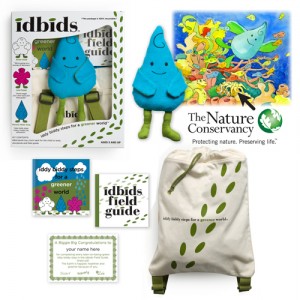 The three plush (Scout the Cloud, Lola the Flower, or Waverly the Raindrop) can be purchased separately or in an "Eco-Friendly Starter Kit" that includes an organic cotton backpack, field guide (which includes 10 iddy biddy steps kids can complete), color storybook, and access to the online portion where kids can receive a certificate of achievement when they complete their iddy biddy steps, as well as choosing which of three charities to help out.
They're a great gift idea!  And they help the earth too!  It's the only one we've got!  Check them out at Idbids.com!