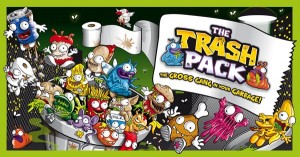 The worst thing about blind packaged items is the chase pieces. Oftentimes they are limited to a specific number, and in some cases individually numbered. Rarely do you ever see these, and I can safely say that some companies don't even seed these into the production run, so the only way to get one is direct from the manufacturer (be it by winning a contest, knowing someone, or the like.) As a Toy collector, this sucks! because it effectively means you can't possibly complete the collection without having an in or spending a pretty penny on eBay..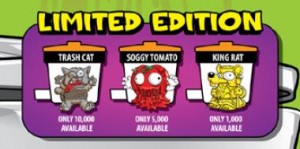 So I am really excited to say that Moose Enterprises actually stands by their posted figures and places their chase pieces into the production run.
How can I make this statement? I randomly bought a pack of Trash Pack at Toys "R" Us and this was inside!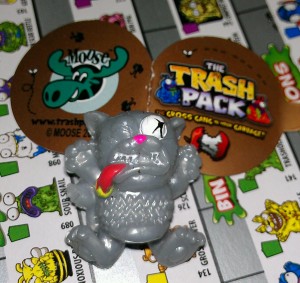 Trash Cat is limited to 10,000 pieces worldwide and is individually numbered on both the tag and the cat himself!
Because of my find, I ended up going out and hunting down more.. Nothing Super Rare, but I got some that glow in the dark!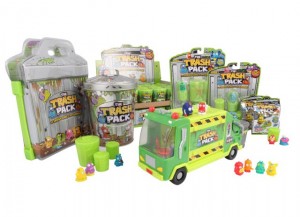 Of course now this means I need to track down the other Limited ones (Soggy Tomato – 5,000 and King Rat (It's Gold!!) – 1,000) before Series two comes out next month.. Keep an eye out for the Dumpster Playset, Mini Dioramas, and for Easter, Trashies in Eggs!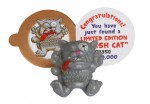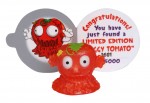 Trash Pack Series 1 Two Pack UPC 630996680193 MFR ID 68019
Trash Pack Series 1 Five Pack UPC 630996680032 MFR ID 68003
Trash Pack Series 1 Twelve Pack (includes two glow in the dark Trashies)
UPC 630996680049 MFR ID 68004
Trash Pack Garbage Truck UPC 630996680087 MFR ID 68008
Trash Pack Collectors Case UPC 630996680056 MFR ID 68005
Trash Pack Collectors Tin UPC 630996680063 MFR ID 68006