Occasionally (in the middle of summer) I'll tell people "Go buy that now and save it for Christmas." Nine times out of ten I'll get an odd glare. That one out of ten can't thank me enough because they didn't have to spend something ridiculous on ebay because it's THE toy for Christmas and no one can find it in a store. One of my choices for this year are Sing-A-Ma Jigs by Fisher Price.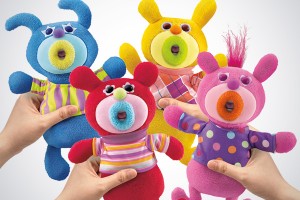 There are four to collect and each has it's own personality.  When you squeeze their stomach they open their mouths and sing a note.  Squeeze it again and it'll sing the next note in the song.  Hold it and it'll hold the note.
Each of these collectible critters has three modes of play, allowing them to chatter, sing by themselves, or sing together (in perfect pitch!) if you have more than one.
Those of you not looking at me like I have three heads will thank me in eight months 😉
Sing-A-Ma Jigs are available now at Toys R Us!